How it all began…
We must first mention Agalma Padaw0ne, the stage name that Cedric has been forging for several years and under which he is still followed on social networks. The Agalma leads to a philosophical concept: it is supposedly hidden in every object of desire, this precious stone mentioned by Plato in his Banquet – yes, here, we'll talk about beer and also philosophy, which will bring us back to beer, in the end.
There's more than what brings us back to beer, always. This something more is what we invite you to discover. We must go behind the curtains and beyond what is taken for granted. For there is always something else further, beyond the obvious: it is a quest in search. This leads us to the Padawone, the one who accepts to be an apprentice rather than calls himself a teacher, the one who abandons the pride of knowledge for the humility of learning.
To play with these words is for us an invitation: to move from the love of established knowledge to the desire for some knowledge. The nuance is fundamental and it is in remembrance of this dialectic that the name Agalmalt was born.
Our core values
We are dedicated to the transmission of tools and knowledge so that our audiences can ultimately take an enlightened and autonomous stand by questioning commonplaces. Our ambition is to enable more connections between individuals and the knowledge that lies in beer.
We have one demand: to stand for the defence of the brewing craft, through its promotion to all audiences.
The idea is not to muzzle freedom of choice or freedom of speech. As market players, we should be aware of the choices that exist and of their consequences. However, our position is clear : by making the craft brewers and craft players known and supported, we are supporting the commitment of actual people, of new ideas, and of projects that make sense.
At least four core values are non-negociable and guardians of our ethics : curiosity, independence, honesty and emotiveness. 
CURIOSITY
You can never know enough. Absolutely nothing prepared us to work for what would become a passion.
Curiosity is like an unquenchable thirst: there is nothing to stop the horizon, when talking about the desire for knowledge. It works for beer. Beer is taking you to unexpected journeys, and it works the other way around. Economics, sociology, history, chemistry, mathematics, psychoanalysis, marketing, acoustics and linguistics and even alchemy: you can spend your lifetime studying beer, without ever being able to dry it out.
INDEPENDENCE
Artisanal beer is experiencing an absolutely fascinating revival, and has been for some twenty years. With its cohort of expected characters: hard-core enthusiasts,  mumbling detractors, self-proclaimed experts…It is not that peculiar to find ourselves scrambling beer experiences with preferences, opinions, politics. We are only human after all. Our approach aims to be different. Apolitical, bias-proof. Our moto: for the greater good.
HONESTY
As a student, Cedric frequently found himself between a rock and a hard place: following his bosses' orders without ever questioning them, or waiting on customers he wanted to really carefully advice. His cursus at the Université Libre de Bruxelles led him to become very attached to what is at the very centre of its teaching: free-thinking. Free examination. He's chosen to use it as a guiding star, an ethical guide: never compromise what would guarantee the integrity of your work. Always revaluate beers, as many and as objectively as possible, relentlessly, even if it creates resentment, hostility or sets you apart.
This is the price we pay for doing our job right.
EMOTIVENESS
Behind every pint that is chugged, every sip that is taken, every taster analysed, you will find the hard work of women, men, teams, suppliers. Craftsmen, artists, visionaries, performers, these people embody in so many ways devotion, sacrifice, choice, which forces respect.
A well-executed beer, the rise of a new flavour, an aromatic discovery are to be taken as such too. The technicality, the know-how, the creativity, the work it demands invite to look twice at the beers we drink. Looking at beer with your heart is not trivial, on the contrary.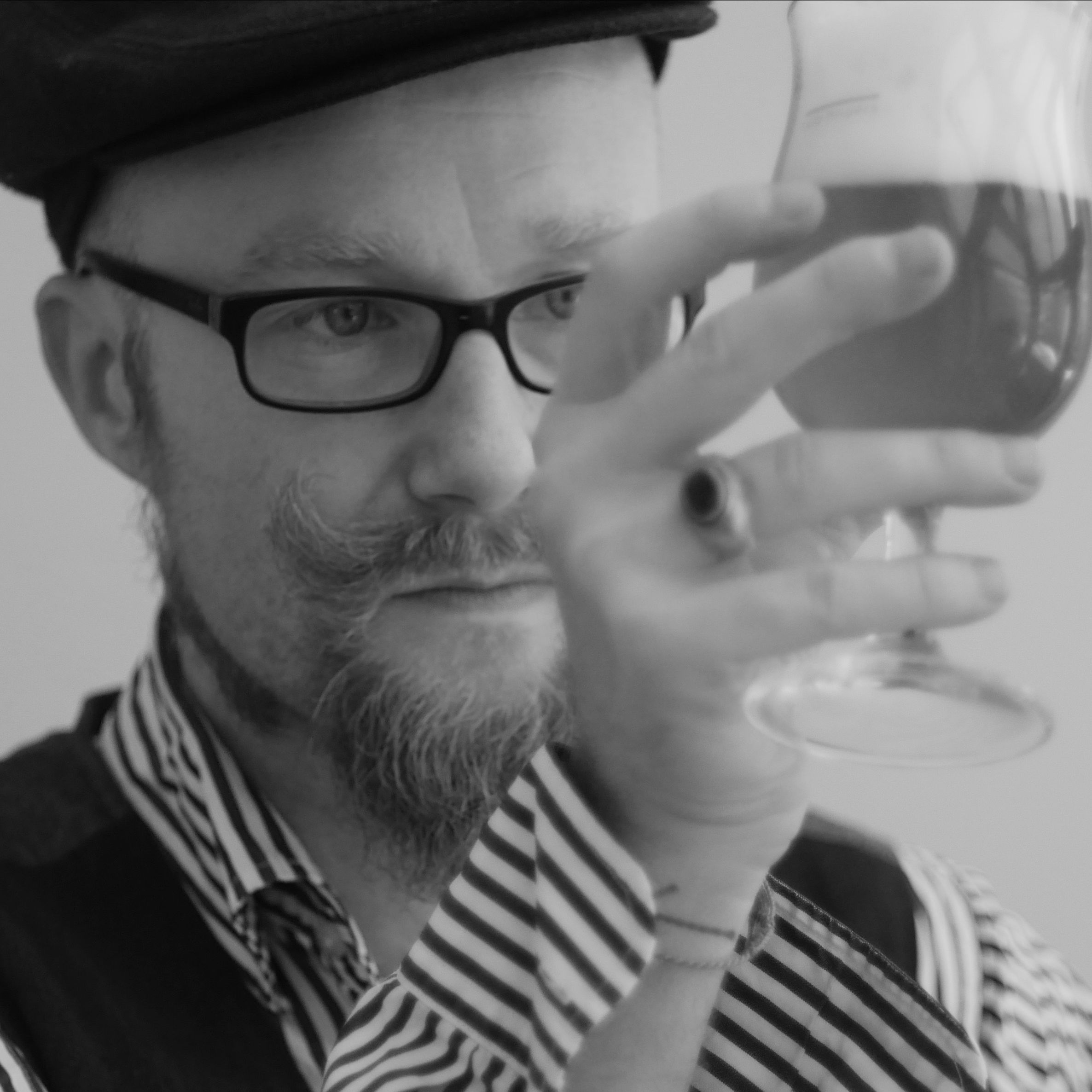 Cedric
The One-Man band, Agalma Padaw0ne
Cedric actually started by serving the beer. Industrial beer, on the Grand'Place in Brussels, to pay his studies. He then did his classes at Le Poechenellekelder, one of the most-reknown beer institutions of Brussels, where his first illusion was shattered. He knows little about beer. A dizzying field of exploration opened up. This thirst for knowledge will push him to taste, compare, learn, study, exchange, go abroad to confront ideas: Switzerland, Ireland, the United States, Italy, Spain. A second illusion broke: Belgium is not The beer country. The field of possibilities took another dimension.
From that moment on, this will sustain his work: exploring, fact-proving and above all… transmitting. To customers, comrades, players of the brewing world. His enthusiasm is contagious. He went on further by leading ttasting workshops and guiding  for the Musée de la Gueuze.
From pairing sessions to judge's tables at beer festivals, he fights to share the extraordinary richness that beer brings.
Twenty years after, it is the same curiosity and high standards that drive his work. His truculent side is just the icing on the cake. Excuse me: the perfect foam head.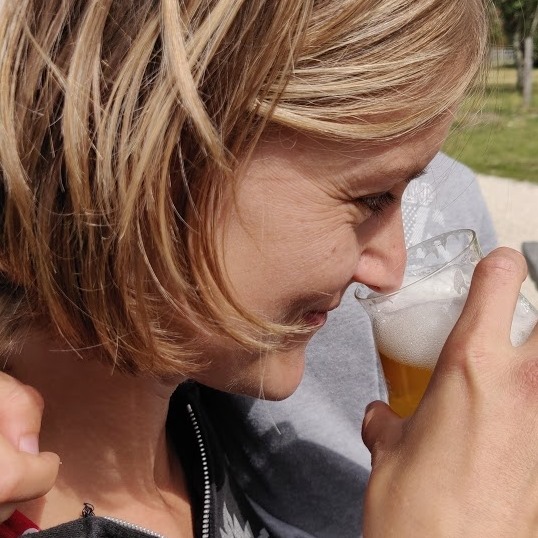 Delphine
Swiss Army Knife, Brol Manager
Delphine had no idea until a few years ago that beer could be sour or what 'brettanomyces' meant. She discovered that there are as many beers as women. Fortunately.
More than ten years of rubbing shoulders with entrepreneurship builds character – it gave her a solid backbone. Serial-organizer, Brol-Manager, she knows how to manage a business from the cellar to the attic. This is her way: straddling every fence, being in ten different places at once, thinking plan B but also plan C. Master of time and of keys, tiny but robust toolbox, she likes nothing more than smooth and mastered projects. She enjoys shaking up habits and moving forward, always. She likes the word 'œuvrer' and the shape that mouth takes on happy faces.